Home » Manufacturing »
PCBA (Printed Circuit Board Assembly) Service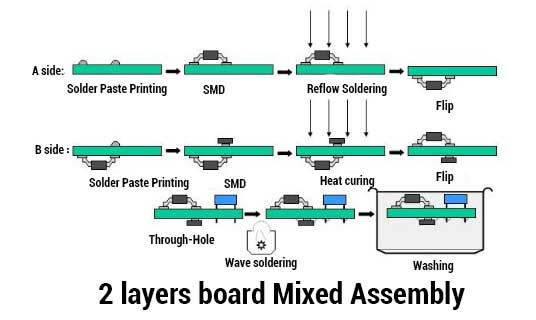 TECHNICAL DESCRIPTION
PCBA is one electronic part that has assembled components (such as capacitance, resistance, IC, connector, etc.) on PCB, with SMT, DIP, and soldering assembly technology. All electronic devices have PCBA, and Electronic devices are everywhere. They range from smartphones to microwave oven and from laptops to cars. So almost everyone is familiar with them. This article explains PCBA manufacturing, PCB Services, PCBA China and much more.
The PCBA Manufacturing Process
Before we start learning the manufacturing process, let's talk about PCBA design basics. All types of PCBs contain the following layers:
Substrate: A primary material for PCBA manufacturing that gives the rigidity to the circuit board.
Copper: Each side of all circuit boards contain a conductive layer of copper foil.
Solder Mask: Green or Yellow color of PCB is due to solder mask.
Why we use it? You will learn in detail ahead! Manufacturing Steps of PCBA Circuit Board Let's understand the manufacturing process of PCBA in details: Solder Paste Stenciling First and foremost, the PCBA company applies a solder paste to the printed circuit board. In this process, you need to put solder paste on certain portions of the board. That portion holds different components. The solder paste is a composition of different tiny metal balls. And, the most-used substance in the solder paste is tin i.e. 96.5%. Other substances of solder paste are silver and copper with 3% and 0.5% quantity respectively. The manufacturer mixes paste with a flux. Because flux is a chemical that helps solder in melting and bonding to the board surface. You must apply solder paste at the precise spots and in the right amounts. The manufacturer uses different applicators for spreading paste in the intended locations.