Home » Manufacturing »
CNC(computer numerical control) Machining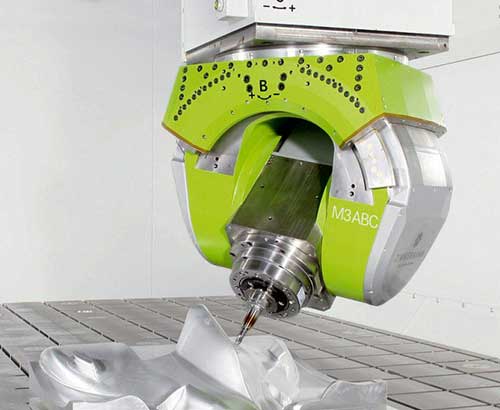 TECHNICAL DESCRIPTION
CNC machining is a term commonly used in manufacturing and industrial applications. But exactly what is CNC? And what is a CNC machine?
CNC 101: The term CNC stands for 'computer numerical control', and the CNC machining definition is that it is a subtractive manufacturing process which typically employs computerized controls and machine tools to remove layers of material from a stock piece—known as the blank or workpiece—and produces a custom- designed part. This process is suitable for a wide range of materials, including metals, plastics, wood, glass, foam, and composites, and finds application in a variety of industries, such as large CNC machining, machining of parts and prototypes for telecommunications, and CNC machining aerospace parts, which require tighter tolerances than other industries. Note there is a difference between the CNC machining definition and the CNC machine definition- one is a process and the other is a machine. A CNC machine is a programmable machine that is capable of autonomously performing the operations of CNC machining.
Subtractive manufacturing processes, such as CNC machining, are often presented in contrast to additive manufacturing processes, such as 3D printing, or formative manufacturing processes, such as liquid injection molding. While subtractive processes remove layers of material from the workpiece to produce custom shapes and designs, additive processes assemble layers of material to produce the desired form and formative processes deform and displace stock material into the desired shape. The automated nature of CNC machining enables the production of high precision and high accuracy, simple parts and cost-effectiveness when fulfilling one-off and medium-volume production runs. However, while CNC machining demonstrates certain advantages over other manufacturing processes, the degree of complexity and intricacy attainable for part design and the cost-effectiveness of producing complex parts is limited.
While each type of manufacturing process has its advantages and disadvantages, this article focuses on the CNC machining process, outlining the basics of the process, and the various components and tooling of the CNC machine (sometimes incorrectly known as a C and C machine). Additionally, this article explores various mechanical CNC machining operations and presents alternatives to the CNC machining process.
INTRODUCTION
CNC machining encompasses a range of processes and operations including milling, routing, lathe turning, drilling (boring), bevelling, reaming, engraving and cutting out. It is used in many industries for shaping metal, plastic, wood, stone, composite and other materials. The terminology and use of CNC machining is related to the traditional material values of each particular industry. For example, CNC woodworking is affected by grain, greenness and warpage. By contrast, CNC metalworking is concerned with lubrication, minute tolerances and the heat-affected zone (HAZ).
The number of axes that the CNC machine operates on determines the geometries that can be cut. In other words, a 5-axis machine has a wider range of motion than 2-axis one. The type of operation can also determine the number of axes. For example, a lathe has only 2 possible axes of motion (the depth of cut and position along the length of the workplace), whereas a router can operate on all 5 axes of possible motion (x, y and z axes, and 2 axes of rotation). The x and y axes are typically horizontal and the z axis is vertical. The 2 axes of rotation are vertical and horizontal, to achieve 360° of possible movement. The principles of CNC manufacturing can be applied to many other processes such as ultrasonics, fusion welding and plastic molding.
TYPICAL APPLICATIONS
Almost every factory is now equipped with some form of CNC machinery. It is an essential part of both prototyping and mass production lines. Therefore, applications are diverse and widespread across the manufacturing industry.
CNC machining is used for primary operations such as the production of prototypes to minute tolerances, toolmaking and carving wood. More often, however, it is utilized for secondary operations and post-forming, Including the removal of excess material and boring holes.
QUALITY
This process produces high quality parts with close tolerances. CNC machining is accurate across 2D and 3D curves and straight lines. Depending on the speed of operation, a CNC machine leaves behind telltale marks of the cutting process. These can be reduced or eliminated by, for example, sanding, grinding or polishing the part.
COMPATIBLE MATERIALS
Almost any material can be CNC machined, including plastic, metal, wood, glass, ceramic and composites.
COSTS
Tooling costs are minimal and are limited to jigs and other clamping equipment. Some parts will be suitable for clamping in a vice, so there will be no tooling costs. Cycle time is rapid once the machines are set up. There is very little operator involvement, so labor costs are minimal.